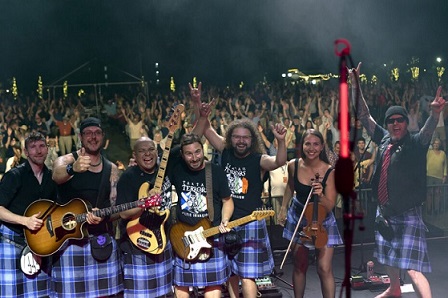 Tartan Terrors are an Ontario based Celtic Band. They bring their Celtic Invasion to festivals and shows across North America, Tartan Terrors Profileblending the energy of a rock show with humour and step dance. With a distinctive sound and proud tradition of making Celtic Music fun and accessible to any audience,the Terrors have played big stages across North America, including Market Square, Saint John, NB, sharing the stage with Scott Helman and The Beaches, and the Celtic Music & Craft Beer Festival in Dunedin, Florida.
Band Members include:Ian Irmisch, Emily Yarascavitch, Phill Hood, Charlie McKittrick, Chris Kerba, Joel Pearl and Peter McArthur.
Ian Irmisch founded the Tartan Terrors with his late sister Ellen in 1996 (27 years ago). Ian holds credentials with ACTRA, CAEA and the AFM and has appeared in several productions.
Emily Yarascavitch is a fiddling and stepdancing sensation. She holds prestigious fiddle titles as a Canadian Grand Masters Finalist, Junior Canadian Champion and two-time Canadian Open Duet Champion.
Phill Hood, a resident of Newfoundland is with the band since 2011. He is a seasoned songwriter and performer and he also has a band called, Phill Hood and the Exclamation and toured across Canada in 2018.
Charlie McKittrick joined the Tartan Terrors in 2016 and is the drummer for the group. He brings to the band his genuine for playing the drums, animated and energetic showmanship, an angelic tenor vocal with 14 years professional playing experience.
Chris Kerba is a 20+ year musician and with the Tennors for over a decade. He brings to the stage his guitar, bodhran, singing and his tough outer shell. He shares his talent with another band, Eclectic Revival
Joel Pearl has been a session bassist for over a decade and has performed with musicians across multiple genres and styles. He plays bass guitar, and has also developed a passion for singing both lead and background vocals.
Peter MacArthur, a Piper has been performing the traditional music of the Great Highland Bagpipe for over 25 years. He performs at over 250 events throughout each year and has performed with the Chieftains, Seven Nations and the Rend Collective.
For more information regarding the Tartan Terrors, go their website, address posted above.