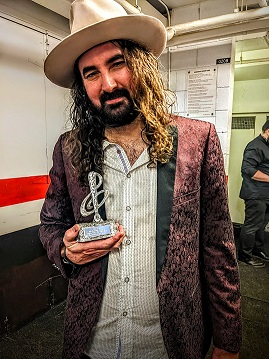 Andrew Waite is a singer/songwriter from PEI. Andrew
and has been heavily involved in music education on PEI
within both the public and private sectors for over 10 years.
He received his Bachelor of Music from the University of PEI
and his Bachelor of music Education from Memorial University.
He is also the owner/operator of succesful summer
contemporary music camp and has a private lesson studio.
Andrew received 4 award nominations for 2023 PEI Music Awards
in March for: Album Art-Video-Roots Recording and Entertainer
He received 4 award nominations for 2023 ECMA in May for
Album (Self-titled)- Song (Ain't Goin' Out Like That)
Songwriter-Video (Full Time, Tryin'2 Luv).
Andrew's first album (Tremors) in 2018 ganered Waite 11 awards
and nominations including two ECMA nominations for Rock
recording and Video . His second Self-Titled album the year was
released in October 2021 to rave reviews. Andrew is a
natural-born leader: in his band, in the charts and to hundreds
of music students.