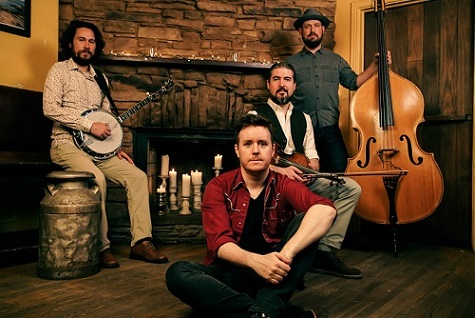 Michael Darcy is a Canadian -based Irish singer/songwriterwho came to Toronto, Ontario in 2010 from his home town in the green Hills of Co. Clare, Ireland.
With this new adventure, he met three like-minded young musicians and formed a new band called The Atlantic Tramps.
Their music is of folk traditions, where greengrass meets bluegrass.They play soulful ballads to the delight of their audiences.
Michael was inspired by American songwriters such as John Prineand Guy Clark. His songs contain Old Country roots and containsstories of loss and fortune, love and heartbreak, wanderlust and down to the roots.
Michael tours both solo and with The Atlantic Tramps.
In 2021, the band was honored to be the only Canadian artists presented at the International Robinson Emerging Artist Showcase at North America's longest runing pan-Celtic festval-Goderich Celtic Roots Festival.
Having solo showcases, he performed in Kimberley, BC and at the legendary Mandalay Bay Hotel in Las Vegas, and later he released a singledebut called Simple Drop of Rain and received rave reviews.
He returned to the studio and he and his band produced a new album entitled, Down to the Roots which was released on July 8/22.
A CD release party is scheduled for Thursday, July 21/22 at the Dakota Tavern in Toronto followed by a solo tour in Ontario, dates to be released later.
For more information about the Michael and The Atlantic Tramps,
refer to their website, address posted above.