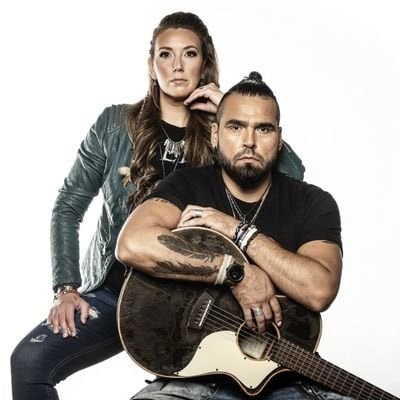 Twin Flames are a husband-and-wife team made up of Jaaji (Inuk and Mohawk) from Nunavik and Chelsey June (Métis) from Ottawa.
Honouring their ancestors' history and representing their Indigenous backgrounds, Twin Flames builds bridges across cultures, continents, and styles and bring together a richness of personal history and musical experience. Their songs tell stories of courage and survival written in English, Inuttitut, and French.
Twin Flames have released three full-length albums and have been nominated for 29 music awards both nationally and abroad, including two Canadian Folk Music Awards, three Native American Music Awards and most recently three Inaugural Summer Solstice Indigenous Music Awards.
They have had two #1 hits on the Indigenous Music Countdown's Top 40 and have played more than 1000+ shows throughout Canada, Greenland, the United States, Australia, France and the Cayman Islands.
Jaaji and Chelsey's passions include working with youth and inspiring them to dream without limitations.
They are founders of Twin Flames - Sharing Stories of Unbreakable Spirits, presentations which take them across the country and the Arctic sharing music and cultural awareness workshops and song writing workshops in schools.
Their goal is to give back to communities and they hope to encourage youth to be change makers.
They share the beauty of their cultures with non-indigenous youth to help them discover Indigenous and Inuit cultures through music.
Twin Flames are advocates for mental health, suicide prevention and healthy lifestyles.