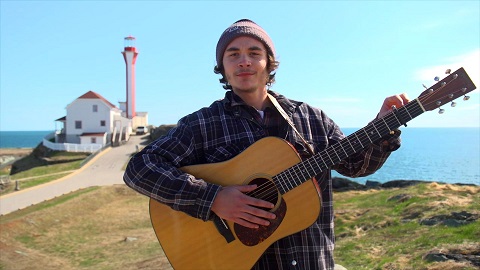 Jacques Surette is a 20 year old Young Acadian musician from Yarmouth in Southwestern Nova Scotia. He started playing guitar at the age of 12 and composing songs at 14.
His debut album, MARCHE, MARCHE, MARCHE was released on June 7, 2019.
Over the past few years, he has played numerous shows and captured fans throughout Canada and Louisiana.
Jacques was recently nominated in the category, Young Artist of the Year 2019 at the Canada Folk Music Awards.
He has won important awards at the 2019 FrancoFete en Acadie, among them a showcase at the Voix de Fete Festival in Geneva and a tour in Switzerland (date to be determined).
Jacques will be touring Quebec with 13 shows from early September to early October.
Maritime dates are scheduled later this fall 2020 to promote the release of his new album.
The new album entitled, Jacques Surette II is a bilingual album that features five English and six French songs. The album will be available on digital platforms worldwide starting Friday, September 4/20.
The CD will be sold in stores in mid-September and the Vinyl version will be released a month later.
For further information or interviews, refer to Carol Doucet, Manager at e-mail : carol@legreniermusique.com