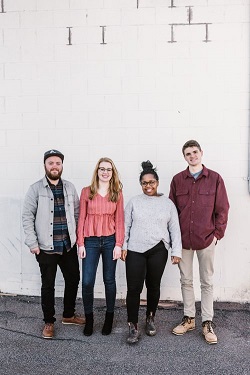 Four young musicians from PEI with very different musical backgrounds joined together to form Inn Echo, blending Irish and Canadian traditional music with a modern take on the genres typical structures ad sounds.
The band incorporates elements of jazz and indie while also keeping true to the fun and energetic spirit of traditional music.
The band comprises of: Gormlaith Maynes, Jessee Periard, Karson McKeown and Tuli Porcher.
Gormlaith Maynes is a well regarded multi-instrumentalist originally from Drogheda, Ireland and plays tin whistle, concertina, fiddle, guitar and harp. She moved to PEI as an Irish Gaelic language teacher and as a faculty member for the School of Performing Arts program.
Tom Gammons is originally from Butte, Montana. He plays guitar and has diverse experience with traditional music especially in Charlottetown where he studies music at the School of Performing Arts in Charlottetown.
Karson McKeown is originally from Ottawa, Ontario and has been a regular and well-recognized player in the Irish Session scene in Ottawa and PEI and won numerous fiddle competitions in Eastern Ontario. He teaches violin on PEI and is helping to keep the fiddle tradition alive in Canada.
Tuli Porcher was raised in Victoria, BC and lives in Charlottetown. She plays cello, fiddle and 5 -string fiddle. She has been turning heads with her unique west-coast style, groove and approach to traditional music.For information regarding the group and their music, refer to their webstie, address posted above.