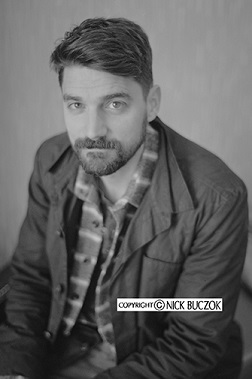 Tim Baker, singer/songwriter from St. John's, NL was a former band member and lead singer of the popular band Rosetta for 12 years. The band disbanded in fall of 2017. They had released 4 albums. Then Tim went on his own and went solo.
Tim earned a spot on Exclaim! the 22 most anticipated Canadian albums of 2019. The album entitled, Forever Overhead, was released in April 2019, his first debut solo album. The collection of songs is centered on kinship and the complexities of human connection.
Baker was educated at Concordia University, where he planned to study piano but came down with a case of tendonitis that prevented him from being able to play for his admission audition, and thus studied creative writing. Following his graduation, he returned to St. John's, where he began performing locally as a solo artist before deciding that his songs need a fuller band sound and forming Rosetta that continued for 12 years.
Tim began to perform locally at several venues around the Province , but they are small shows in Twillingate. Fogo Island and Botwood He was building up his reputation of songs and performance before the big time.
As time goes on after his completed CD is finished, he is ready to tour across the country and US. On his solo album, he drew on the 70's pop records by Elton John, Billy Joel, Jackson Browne and Van Morrison. His parents exposed him to their music as a young man. He wanted to connect with people, the way he connected with those records.
Now in April 2019, he embarks on a Canadian tour which included 5 shows in USA including Portland, Or-Seattle, Wash-Los Angeles, Ca and San Fransisco, CA. As well he is working on a new video entitled, Forever Overhead.
Tim is on the move, and there is no looking back. For more information regarding Tim and his music, refer to his website, address posted above.
NEWS AS OF FEBRUARY 2020!
TIM BAKER IS NOMINATED FOR 7 ECMA 2020 AWARDS: Album of the Year-Folk Recording of the Year-Solo Recording of the Year-Song of the Year-Fans Choice (Entertainer)-Fans Choice (Video)-Video