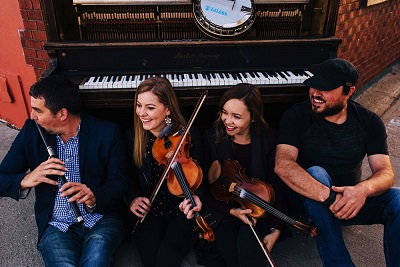 Coig is a 4 member Celtic Group from Cape Breton. They are namely;
Rachel Davis- guitar, mandolin, mandola, banjo, bouzouki, whistles, flute, vocals.Rachel Davis- fiddle, viola, vocalsJason Roach- pianoChrissy Crowley- fiddle
In 2018 they won Group of the year award and were nominated for a Juno and a Canadian Folk Award. They have a combined total of 30 group & solo awards and nominations and the four members of the band are well respected players in the world.
The group's debut album, FIVE, released in 2014, earned them a 2014 Canadian Folk Music Award, Music Nova Scotia Award and the 2015 East Coast Music Award for Roots/Traditional Group Recording of The year. That was followed by 2015's Carols, already a yearly holiday favourite.The Group have recorded four albums to date namely; Five, Rove, Coig Carols and their latest in 2019 entitled, Ashlar.
The new album is full of surprises. They have chosen one of Gordon Lightfoot's songs, Home From The Forest, and is a winner all the way, done in their own style. Another song features Rachel's beautiful version of the Gaelic standard, O Luaidh.
Ashlar flows from lively sets to tender traditional ballads to fabulous covers everything Coig is known for. But there is a difference with the new album, which features the most tune-writing, and more vocal tracks of any of their releases in the past.
Coig have travelled the world with their music, and again in 2019 they will be touring Europe.All the players come from a lot of influences such as jazz, world music and Irish Themes. All these traditional music backgrounds lead to the other magic ingredients in Coig. Coig is a band of fast friendly people that grew up together, played together and knew each other a long time before they ever considered of being in a band together.
The Best in Traditional Music, in a non-traditional way, that's Coig.