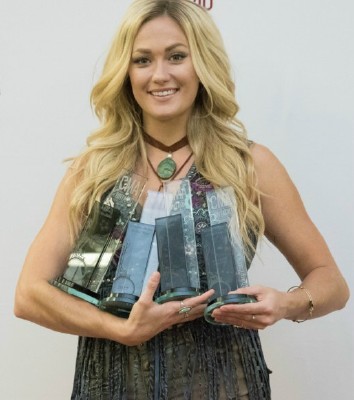 Meghan Patrick, is a country singer/songwriter from Bowmanville, Ontario. She just won 4 CMAOntario music awards at the gala music awards event in London, Ontario on June 11, 2017. She won Female Artist of the Year, Rising Star, Album (Grace & Grit) and Music Video for (Bow Chicka Wow Wow).

In the mid 20's she was lead singer for the newgrass/bluegrass band, The Stone Sparows, but parted ways in 2013 after playing their second Boots and Hearts Festival and then went solo.

She then made a name for herself and signed to Warner Music Canada. She then signed a publishing deal with Ole' Nashville. She released her debut album entitled, Grace & Grit in the spring of 2017.

She travelled to a number of studios in Canada and USA including Nashville. She worked with Vince Gill, Chris Baseford (Nickelback). Popular country artist, Joe Nichols duets with her on the song, Still Loving You on her debut album and Canadian Chad Kroeger co-wrote an d produced he single, Bow Chicka Wow Wow along with several others on her debut album.

Many other popular artistts helped to write the album like, Rodney Clawson, Gord Bamford. Chantel Kreviazuk Marty Dodson, Patricia Conroy, Bruce Wallace, Buddy Owen, Phil Barton, Phil O'Donnell and Andrew Allan.

The songs Meghan writes are about real-life situations and are both personal and autobiographical. She feels connected to the music especially when performing live.

UP-Date: Jan 19, 2018

Meghan won 2 Canadian Country Music Awards in 2017. for Female Artist of the Year and Rising Star

Megan has shared the stage with Lady Antebllium, Dwight Yoakam, Jon Pardi, Kip Moore and Gord Bamford.

Meghan released her follow-up album in 2018 , Country Music Made Me Do It , to Grace & Grit released in 2016

Meghan's album in 2016, Grace & Grit, won Album of the Year at CCMA in 2016 and 3 other nominations.

Megan begins a cross Canada tour with The James Barker Band in mid-January 2018 beginning in Ontario and ending in Vancouver on February 10/18.