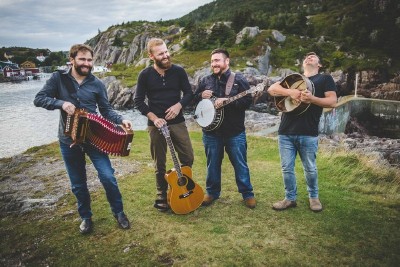 Rum Ragged is a traditional Newfoundland Band from Newfoundland. The band was formed by Mark Manning, singer/guitarist and singer/accordion player Aaron Collis two years ago. They have now garnered respect from a loyal, ever-growing fan base as well as their musical peers.
They are a four piece band is made up of: Mark Manning, singer/guitarist-Aaron Collis, singer/accordion player-Anthony Chafe, bodhran-Michael Boone, bass and banjo.
They have released their debut self-titled album in summer 2016 and received widespread attention and acclaim with 2 MusicNL nominations for album of the year and folk roots recording. They just received an ECMA 2017 nomination for Roots/TraditionalRecording of The Year.
Rum Ragged were also the grand prize winners of Lamb's Rum theme song contest, from hundreds of Canada wide entries.
The band hails from four different outports around Newfoundland. They represent the best that the province has to offer in the tradiotional genre. With an acclaimed new album and award nominations already under their belt this year 2017 promises to be a busy and successful year for this dedicated and enargetic band.
For more information regarding this fine band, refer to their website, address posted above.