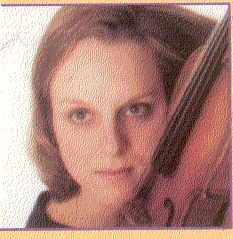 Melissa Gallant, a twenty-two year old Acadian from Prince Edward Island, is a lady full of energy! Her passion for traditional music can be seen in her smile. After being raised in an Acadian community filled with music, it is not surprising to see Melissa excel as a musician and a dancer.
At the age of two, she began stepdancing and in no time became known as one of P.E.I.'s best stepdancers.
Since Melissa grew up loving fiddle music, she decided at the age of 13 to take lessons. Well, she never looked back since! After playing the fiddle for only nine years now, she is ranked as one of the best fiddlers on the Island. Thanks to her experience in dance, she has a sense of rhythm in her fiddle playing that is very unique. Even if Melissa names Eddy Arsenault as one of her greatest Acadian influences, there is still however, a presence of Irish and Scottish music in her playing. This is thanks to her teachers Paul MacDonald and Kim Vincent. Paul is a master of the Scottish and Cape Breton styles. Kim is a master of Irish music on P.E.I.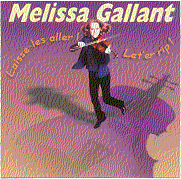 When watching Melissa play the fiddle, it is easy to see that she plays from the heart. She is very comfortable on stage which makes people very much at ease watching her perform. Last summer she had the chance to realize one of her dreams: to make a recording! The title of this album is Laisseles aller!/Let'er rip! This album consists of traditional tunes but with original arrangements. With the guitar, bass, piano, and percussion accompanying Melissa on the fiddle, it makes the album quite ener- getic! It is certain that with Melissa's determination and love for music, she will have a successful musical career!