Catherine MacLellan , Folk singer/songwriter from P.E.I. was nominated for 3 ECMA 2012 Music Awards, She was nominated for: Album-Folk Recording and Solo Recording of the Year and she won 1 award for Folk Recording of the Year in April 2012.
Catherine is daughter of the Legend late Gene MacLellan of the famous written song, Snowbird by Anne Murray. Catherine's voice is similarly pure and honest, managing to simultaneously sound fragile yet strong. Her new 2012 nominated album entitled, SILHOUETTE, is the higly anticipated album from Catherine. The album captures her best qualities efortlessly-stitching togther elegantly woven songs with her memorable blend of heartfelt and powerfully introspectve lyrics and catchy melodies.
The album contains 14 tracks and Catherine bought together a band of longtime friends and musical collaborators with David Baxter producing. Included on the tracks is the song Snowbird, a stripped down cover version the most lauded song ever written by her father, featuring Canadian icon Jim Cuddy (of Blue Rodeo). MacLellan's star has long been rising in North America and she travelled and showcased in Boston, Berlin, Cannes, Memphis, New York, London and Paris.
Catherine recently won 5 MusicPEI Awards in January 2012 for Female Solo-Album-Roots Contemperay-Socan Songwriter-Video. In 2010 at the MusicPEI Awards, she won Songwriter-Female Vocalist-Album-Folk Recording. At the ECMA 2010 Music Awards she won Female Solo Recording of The Year and Folk Recording of the Year. She was also winner for Solo Artist of the year at 2009 Canadian Folk Music awards.
Other achievements:
* #1 Roots Artist on iTunes Canada
*PEI winner for CBC Radio 2 Canadian Song Quest
*Penguin Eggs - New Artist Discovery of The Year.
Update as of March 2021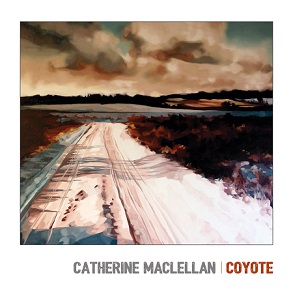 Catherine released her latest Album entitled, COYOTE in 2020. It is a travelogue through heartbreak, loss and the joy of life. It contains 14 songs that are reflective, poignant and hopeful.
The album was recorded and produced by Catherine in her own studio in PEI.
The album has received 4 ECMA nominations for the May 2021 Awards and 8 nominations for Music PEI awards at the end of March 2021.
Catherine took a break for the past 4 years and produced a live show, the celebration-The Life and Legacy of her late father Gene MacLellan based on her previous album, If It's Alright With You: The Songs of Gene MacLellan.
In 2015 she won a Juno for her album, The Raven's Son. For the past number of years she received multiple ECMA music awards, Canadian Folk Awards and PEI Music Awards.

For more information regarding Catherine and her music, refer to her website, address posted above.