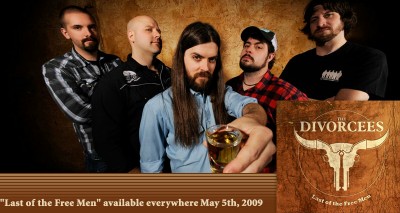 The Divorcees
are from the deep woods of New Brunswick. They are based in Moncton. They are striving to become regarded as the
modern-day Country Outlaws of The Great White North
. Band members are:
Danny Roy
, guitar, vocals-
Alex Madsen
, guitar & vocals-
Denis Arsenault
, bass & vocals,
Jason Nicholson
, guitar & vocals and
Brock Gallant
, drums & vocals and Manager.

Canada's new ambassadors of all things Honky Tonk live to hammer out their brand of renegade country music-real, honest and true, says frontman Jason Haywood, kickin' and screamin' like a fella at a shotgun wedding! The Divorcees want to bring real country music back to the people, says lead guitarist Alex Madsen, The four of us are just tired of this slick crap comin' out of Nashville. I think country fans are ready for music that comes from the heart-you know, the good stuff! We don't wear silk shirts or tapered jeans or stupid shiny cowboy hats. Our music is just like our clothes-it's well-worn and fits just right; even if it's a bit on the dirty side.
Recently at the ECMA '06 Awards week-end in Charlottetown, The Divorcees were the talk of the ECMA's. Having a major case at the ECMA Roots to Rock Showcase, they performed all week-end in the Delta Hotel, ECMA headquarters in the Members Only Lounge and outdrew all other acts with attendance in the ever popular Sennheiser Lounge. They were the only band that had the people dancing and screaming for more all weekend. In the audience you could see, major music artists, ECMA executives, young people and old, DJ's and hundreds of delegates, passing by and stopping in to see and hear the great music & song of The Divorcees as well getting on the dance floor.
At present, they are working on their first full CD. The band is working to line up a number of venues to showcase their music as well as land an official CCMA showcase, during the Canadian Country Music Awards weekend in Saint John, N.B. in September. Jason their leader said recently, they won't have to look too hard to find us this time, we plan on being everywhere. We want to raise the public and media's awareness of one of the hottest country acts in North America.
Update-April 2009
The band has been touring Canada since forming in 2005, and as of this April 2009, they just completed a tour across Canada. They are all set to release their second album, entitled, LAST OF THE FREE MEN in May 2009. They will be kicking off a Maritime CD launch on May 1 in Moncton, New Brunswick.During the last few years, they have shared the stage with, George Canyon, Johnny Reid, Tim McGraw, Faith Hill, Tim Hus, Corb Lund, Aaron Pritchett and a host of new found friends.
In 2008, the East Coast Music Association awarded them COUNTRY ALBUM OF THE YEAR in Fredericton, N.B., a grateful moment of validation after 3 years of hard work and hard touring.For more information about the band, check their website, address posted above.
Update Feb 2017
The Divorcees have received an ECMA 2017 music award for their album entitled, From Labour to Refreshment.