Darren started playing guitar and singing when he was 16 in his home province of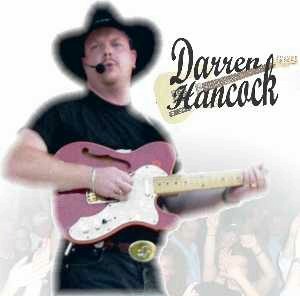 Newfoundland, and even though his first musical interests were not exactly Country, the arrival of artists like Garth Brooks began to change the face of New Country. Excited by this new age of Country music, Darren started learning the material, and discovered this was where his voice was best suited.
He moved to Ontario in 1994, and a year later joined his first group, High Noon, as lead guitarist.
High Noon (1995-2000)
Initially a 5-piece band, High Noon was formed in late 1995, and during it's five year term became a highly established group in the Southwestern Ontario region, playing all the hot spots and Honky Tonks in the circuit.
When the lead singer quit in '98, Darren stepped up to front the group as well as play lead guitar. In addition to performing at various charitable funtions and fundraising events, High Noon received two OCMA nominations for
Bar Band of the Year
for 1998 and 1999. Fronting the band as lead singer and lead guitarist provided valuable experience and ultimately prepared Darren for his next move...
Moonshine (2000-2005)
Following High Noon, Darren took a few months off to perform with various acts, and was approached by Moonshine in mid-2000 to be lead singer/lead guitarist.
From their first show, it was apparent this group had potential. Moonshine joined the OCPFA in 2001, and began showcasing Darren's original songs to rave reviews. They were hired as the opening act for such acts as
Doc Walker
and
Julian Austin
, won the Ontario chapter of the 2004 Rising Country Superstar contest, and were awarded
Club Artist of the Year
at the 2004 Ontario Country Music Awards.
Darren further developed his stage presence with this group while improving his guitar skills, songwriting, even learning web design to promote Moonshine's on-line presence.
Today
Darren's original songs have also helped him to receive some recognition, with
ThatsCountry-Dot-Com
played as a soundclip to hundreds of thousands of visitors to the That's Country website while it was adopted as the site theme song. His song
With This Ring
(written as a wedding gift to his wife) has been referred to as the next big wedding song to come out of Canada.
Launching a solo career was the next natural step for Darren, and he is currently working hard in the studio on his new solo CD. All songs on this project are written and performed by Darren, with a LOT of help from many talented folks in the music biz.
His show is high energy, full of great music and plenty of fun!! He really connects with his audience, and gives a performance you won't forget. Be sure not to miss Darren Hancock when he comes to your town!