Dave Gunning
, from
Pictou County, Nova Scotia,
is fast becoming the
buzz in the world of
folk singer-songwriters
. He has performed in Europe, Canada and the United States,
creating a stir, touching hearts
, and
gaining supporters
wherever he played his songs. He recently has been
invited to perform
at the prestigious
Kerrville Folk Festival in Texas
in May 2004. He is considered as
one of the most respected musicians
on the East Coast.

Some major highlites of his career thus far: Toured across the country with Stompin' Tom Connors-Featured performer at The Stan Rogers Folk Festival in 2002-Hosted the Nova Scotia Kitchen Party-Performed on stage with John Gracie, The Irish Descendants, Lennie Gallant, Ariel Rogers and many more. He is a two time ECMA nominee. His albums, Caught Between Shadows and Lost Tracks received critical acclaim. Both albums showcase Gunning's talents as a songwriter and innovative arranger of traditional songs.
Dave in 2003, was named MIANS (Music Industry Association of Nova Scotia) Musician of the Year. In 2002, he won all 3 categories in which he was nominated for. Riverfront studios, of which is is co-owner and founder, was awarded Recording Studio of the Year in 2002.
This is what Lachlin McKinnon, Special Advisor to the Governor General of Canada said of Dave Gunning: A very thoughtful and sophisticated songwriter-His lyrics are intelligent, and his harmonies interesting. His compositional style demonstrates a remarkable range and variety of musical approach. I believe Dave is a true original, and that's rare. He is a genuinely superb fellow-He's gracious and hard working, and uncompromisingly honest. Dave has what it takes to become a major musical figure in this country and even beyond.
Dave's latest album is entitled, David Gunning, LIVE, a top album containing 13 tracks. Its an unbelievable collections of songs, including a Stompin' Tom song entitled, The Gumboot Cloggeroo. Dave has many important performing dates thus far in 2004. One of them is performing in Iqaluit, Nunavut. Other shows booked are: Mariposa Festival in Orillia-Lunenburg Folk Harbour Festival-Stan Rogers Festival and many more. For further information regarding Dave and his music, refer to his website, address posted above.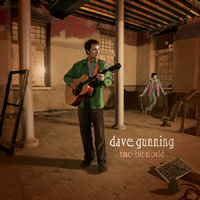 UPDATE AS OF JUNE 1, 2004
Dave Gunning has just released his new great album, entitled, two-bit world. The album contains all new material, and by listening to song samples on his website, it sounds like a sure winner. Atlantic Seabreeze is awaiting receipt of the CD to review on its website, which should be very shortly. Song samples: The New Highway-Saltwater Hearts-Pills of White Mercury-Let Him Be-So I Sing and 6 others. Dave has 3 other Albums-Dave Gunning LIVE-Caught Between Shadows-Lost Tracks.
As of June 1/04, Dave is heading off to Texas, USA where he will be performing for some shows for 9 days. Upon his return to Nova Scotia, he will be busy promoting his new album and will be kicking off his Canadian Tour with a CD Release party in his hometown Pictou on June 12 at The DeCoste Center.
UPDATE AS OF SEPTEMBER 27, 2009
Dave just released his seventh CD oin September 2009, entitled, WE'RE ALL LEAVING.
For a full review on this album, check Most Recent Releases on this website.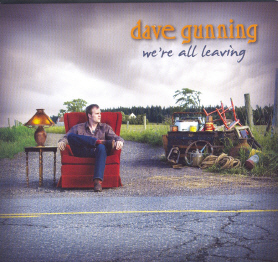 UPDATE AS OF AUGUST 2013
Dave won an ECMA 2013 Award for the above posted video for SONG OF THE YEAR (THESE HANDS)