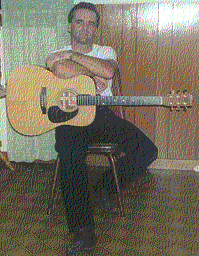 Blair Gaudet is a singer and song writer from Tignish, Prince Edward Island. He is surging on the Island's music scene. Blair is 38 years old. He has been singing and performing since he was 17.
Blair's father, Arnold, has been his greatest influence in his career. Arnold has been singing for 50 years and continues even now. He has a Band called, Charity West.
Blair's wife, Marcella Arsenault, comes from a very musical family. Her father, Henry, is a very well known fiddler. All her sisters and brothers are musical.
In the early 90's, Blair was part of a popular Island Rock Band, Blue Explosion, in which country artist, Randy J Martin played.A few years ago, Blair formed a Turbo Country Group, called 140 Smooth Bore. They released a Cassette, which contained a mixture of:
Southern Rock
Swing
Blues
Folk Country
Country Rock
It was called
CD Juke Box
. Blair wrote all the songs on this tape. His writing ability shone.
Earlier this year, Blair was asked to help produce a CD to help celebrate his hometown's Bi-Centennial Celebration, called Music of Tignish. Brian rose to the occasion, and even wrote a song, titled A Salute To Two Brave Lads. This was a song about his grandfather. It is an outstanding piece of work. It is included on the Music of Tignish CD.
Blair continues to write. He is almost ready to go in the studio to record his second cassette. He hopes to have it released by this year's end (1999).