Meet
Kevin Evans
and
Brian Doherty
, one of the most successful duo's or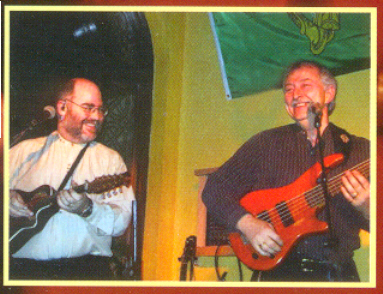 groups
that ever came
out of
Eastern Canada.
They have been an integral part of the East Coast music scene for
twenty years.
They have been together as Evans and Doherty for
fourteen years
. They are
first-rate musicians, singers, songwriters, promoters
and
producers
. They have recorded
10 outstanding albums
and have been on
several compilation recordings
. They are
involved
with
many aspects
of the Music Industry.

Brian owns and operates Eastern Entertainment Agency, a booking agency and promotion company which co-ordinates tours of Atlantic Canada for many Canadian and international acts. Kevin owns and operates Modtrad Music, a publishing company, through which much of the material performed by their group is published and licensed. They own a popular Pub in Halifax, called The Old Triangle Alehouse.
Evans and Doherty have entertained audiences from Waterford, Ireland to New Waterford, Cape Breton, from Berlin to Boston and from Nova Scotia to New Zealand. They are endorsers of Godin, Ovation, Takamine, Washburn, Lowden and Taylor guitars, Deering banjos and Elixir strings.
Evans and Doherty are considered by many, as the greatest folk duo still performing in the world. They have appeared in countless festivals throughout the world, performed in many major music events and appeared on many radio & television events. Their present club and festival appearances look very impressive for the rest of 2002. Often considered the finest of Evans and Doherty's performances, the recording of At The Lunenburg Folk Festival is now available on CD. As a bonus, the new CD features Natures Music, Natures Song, a fine anthem to Nova Scotia written by Bob Quinn. Millions know it as the Tourism Song used for the last several years to promote Nova Scotia at home and abroad.
They have just released in May 2002, their 10th CD, entitled, A Much Better View. It contains many new songs and some personal favorites.They were honoured recently, by having Dr Stompin' Tom Connors record Kevin's written song, Silver Sea, a very popular song previously recorded by the duo. To read more about Evans & Doherty, visit their website, address posted above.