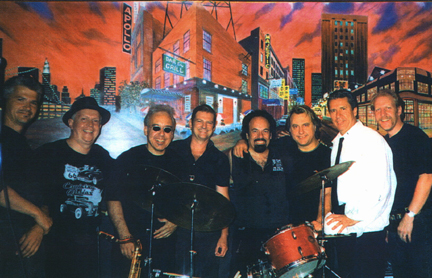 Robbie Lane
, a Canadian Music Legend, with his Band
The Disciples
, are
Canada's Premiere Entertainers
. Legendary Canadian
Rock & Roll Singer Robbie
, is a
Recording Artist-Song Writer-Entertainer
and a
Master of Cermonies
. Robbie career spans over 30 years in virtually every area of the Entertainment Business. A
true professional
, he has created a
fabulous musical showcase
, surrounding himself with
eight of Canada's finest musicians
. The showcase is a 60's, 70's and 80's
Rhythm 'n Blues/Rock 'Roll Show
unequalled in this Country.
One of the showcases, in its second year held every Sunday at P. K. Creek in Missisauga, Ontario, is living proof that Robbie Lane and The Disciples are the top Rock n' Roll Band in Canada. Hundreds of fans attend these showcases every Sunday, enjoying the Bands great music, having fun and dancing to the outstanding music.
Throughout the past 30 plus years, Robbie Lane and The Disciples were the back-up band for Rompin' Ronnie Hawkins for 2 years, host band for CTV show, Its Happening for four years, released several single records for Capitol records, and done countless Club dates. The original group broke up in the mid 1970's and Robbie went solo into the music business.
He went non-stop as host to many venues including Game Shows, Special Events, MC for Awards and the list goes on. In 1987, Robbie reformed the Disciples, and have been performing ever since. They released albums entitled, Ain't Dead Yet, The Best of Robbie Lane & The Disciples and now in 2002 they released a live album entitled, Doin' It Righteous, recorded live at P. K. Creek in Mississauga.
Meet the Disciples Band: Don Hart, Bass/Vocals-Joe Rigon, Drums-Steve Shelski, Guitar/Lead Vocals-Michael Keys, piano/Lead Vocals-Glenn Hill, Harmonica/Lead Vocals-Edward Z, Tenor Sax-Joe Allen, Trumpet and Stewart Elliott, Baritone Sax/Lead Vocals. The Band keeps busy and are booked for many Corporate Events, Special Events and many Night Club gigs.
A very popular gig, is the CHFI Saturday Night Oldies Dance held Annually in Toronto with popular Host, Don Daynard where the Band has performed for over 10 years. For further information regarding Robbie Lane and The Disciples click into their Website address posted above.
UPDATE AS OF OCTOBER 23, 2011:
For the past few years Robbie and The Disciples have changed venues each week-end.Every Sunday afternoon at 5 pm, they perform at PEOPLE'S CHICKEN, 744 Mount Pleasent Road in Toronto. Contact No: 416-489-7931
Also, they perform various Saturdays at the Old Mill Dining Room in Toronto-see schedule on Robbies website, address posted above.
Robbie can be heard on AM740 in Toronto at 6 pm weekdays Mon-Fri, playing all the 60's and 70's music till 8 pm and on Saturdays at 6 pm as host to The British Invasion.