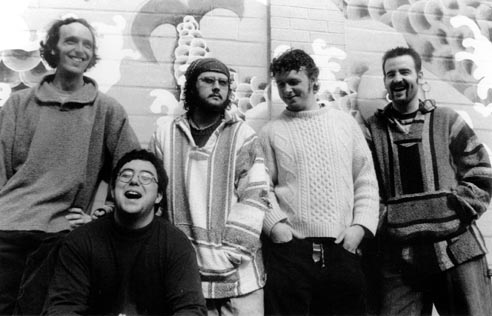 Meet the
Aaron MacDonald Band
out of Halifax, Nova Scotia. The five piece band are
not necessarily a Celtic Band
, but more of a
Maritime Folk Band
that play Maritime Folk Music, and
possess elements
of artists
Lennie Gallant, Stan Rogers
and
Jimmy Rankin
. The
very popular band
began in early 2000 with two band members, however have expanded to
5 members
, and have came up with the right combination. Band members are:
Aaron MacDonald
, lead vocals and rhythm guitar-
Ian Bryson
, rhythm and lead guitar-
Johnny Grant
, bass guitar and vocal back-up-
Neil MacQuarrie
, drums, percussion and vocal back-up-and
Jay Cleary
, rhythm and lead guitar, vocal back-up and percussion.
Wherever they perform, they fill the Clubs and a have a very strong following. The Band feels that it is their original Maritime Folk Music that is their greatest asset and a secret to their success. They have toured all over the Maritimes and to parts of Ontario and Alberta.
During 2001, the Band enjoyed many highlights: Opened for Kim Stockwood at the Grandville Green Festival in Port Hawkesbury, Cape Breton, participated at the Evolve Music and Awareness Festival< in Antigonish, N.S., performed to sold out shows in Halifax, Atlantic Trap and Gill in Calgary, Alberta and The Comfort Zone in Toronto.
The band is ready to release their fourth independent CD, entitled "Cedar Sessions", at the Comfort Zone in Toronto on March 8/02. The Eye magazine heralds the club as the best 'chill out" club in the city.
The CD is expected to be a winner. It reveals strong country-rock, folk and the world beat influences, blending to spawn an original fusion, which demonstrates massive crossover appeal to audiences of all ages. The band will be touring throughout Central Ontario in March 2002 in support of their album. One of their stops besides The Comfort Zone in Toronto on March 8th, will be at the famous Horseshoe Tavern in Toronto on March 14th, opening for world famous, Ashley MacIsaac.
For further information regarding the Band, their Club dates and their music check the above website address. To check their music click into this website address: http://homepage.mac.com/ambnews.