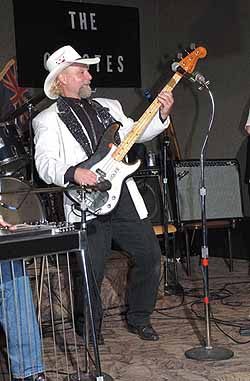 Traditional Country Music Singer/Songwriter,
Wolfe Milestone
is receiving much attention these days, with the release of his popular CD entitled,
Where My Truck Stops Here.
The CD is receiving much airplay in Europe at the moment and climbing the European charts. This CD was produced by
Ed Molyski,
a gifted guitarist, songwriter and producer. This is traditional country music at its very best and with Wolf's outstanding singing voice this
CD is a winner all the way.
With today's modern new country/rock sound, if you call it country, this CD is what
Real Country Music
is all about. Wolfe wrote or co-wrote nine of the ten songs on the CD.
There is no doubt about it this CD has award nominations all over it. Some tracks are: Where My Truck Stops-Love her Tonight-Going To The Country-Bottle On The Bar and many more. Wolf a gifted singer, spent his childhood in Holland Landing, Ontario. Growing up like most teenagers, he was involved in rock music. With the lack of work as a rocker, in 1975 he was persuaded to get into Country Music, which he did. In 1982 he moved to Vancouver, where he is currently working and performing. He performs regularly in Vancouver and continues to pursue his dream and hopes to have a successful career in Country Music. Milestone's four-piece band Cayuse, members are: Ed LeClair, Larry Brown, Rick Dunn and of course Wolfe. Over the years, Wolfe worked with many Canadian Artists from Coast to Coast, including: Michael T Wall, Harry Hibbs, Dick Nolan, Roy Payne, Roy Penny, Derek Pilgrim, Jenny & Josie, Blue Rodeo, Lloyd Noseworthy, Gary Gale, Michelle Wright, Tommy Hunter, Johnny Burke and many USA artists, such as, Johnny Paycheck, Waylon Jennings, Willie Nelson, John Berry and Lynn Anderson, to name a few. Now with his own Band, he is carrying on his love for Country and Music. For more information regarding Wolfe and his music: E-Mail milestone@telus.net
UPDATE-NOVEMBER 4, 2000
Wolfe's CD, Where My Truck Stops Here, has been very successful this past year,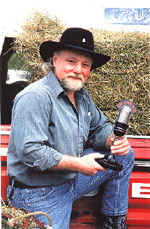 and as a result, Wolfe has received the #1 Vocalist of the year in Southern Ontario and has been nominated for another award in Texas and one in British Columbia.
UPDATE-JANUARY 3, 2001
News from Abbotsford, B.C. is that Wolfe Milestone is Abbotsford's best kept secret. His curent album, Where My Truck Stops Here, is getting plenty of airplay in the States and Europe, but not in Canada. Many Canadians even in his home Province of B.C. don't even know his name. This is really a shame, as Wolfe is an accomplished bass guitar player & singer. He has performed before thousands of people and yet his great album is not played by Canadian radio. He recently won the Male Vocalist of the year award from the Southern Ontario Country Music Association, and he has been nominated for the B.C. awards in 2000.
(by john gavin)
Up-Date as of April 11/01:
Popular Country Music Artist, Wolfe Milestone from Abbotsford, B.C. is gaining more popularity each day with his hit CD, entitled, Where My Truck Stops. Wolfe is winning many awards with this CD, and gaining much exposure in North America, especially in Europe, including Austria and Australia. Feedback from Europe & Australia is overwhelmingly. Song tracks from the CD like, Going To The Country, Bottle On The Bar and the CD title track, Where My Truck Stops are in heavy rotation in those Countries. The CD is considered one of the finest Traditional Country albums to come out of Canada in a long time. We wish Wolf continued success with this CD, and we will hold our breath until we hear the follow-up to this great project.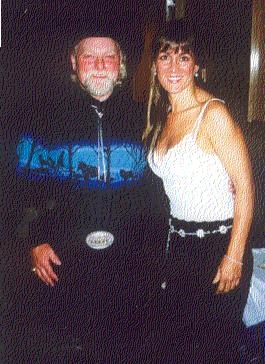 This picture (Wolfe Milestone & Michelle Wright) was taken on June 8/01 at The Abbotsford Art Center, British Columbia.
Up-date as of Sept. 5/01
Wolfe's album, Where My Truck Stops Here, has been album of the month for the month of June, 2001 in Tuross Head, Australia on 97.4 FM. The album has been getting regular air-play and was given a rating of 5 Star.This picture of Wolfe and Michelle Wright recently appeared in the September Issue of Country Western Corner in Santa Fe, Texas.