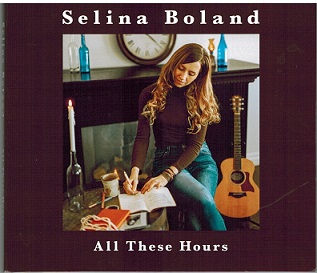 Selina Boland from St. John's, Newfoundland just released in June 2023 her latest album entitled, All These Hours.
This impressive album has all the markings for award nominations and awards in the coming months.
Selina is known for her Acoustic Folk with a touch of the Atlantic Ocean Breeze. Since the release of this album, the single, The Way It Goes has already hit the airwaves and streaming platforms. The song was written in the wake of her mothers passing and the song delves into the depths of grief and the yearning for a love one's presence once again.
The album contains 10 songs, all written and performed by Selina. The music is outstanding on all tracks.
Here are the song titles:
Falling Through (feat. Gina Burgess) - All These Hours - In Your Room
Not Another Timid Soul - The Way It Goes (For Mom) -Tiny Little Secrets
Quickly - Nothing but Something - Unbeholden - Catch
Music Artists include:
Selina Boland- Vocals and acoustic guitar
Christian Johansen-all instruments and male vocal harmonies
Gina Burgess-violin on the track Falling Through
All these Hours is a testament to Selina's exceptional talent and her ability to
touch hearts with her music. She offers a collection of soul-stirring songs that
explore the depths of human emotions, inviting listeners to suspend their
realities and embark on a musical journey that resonates long after the final
note fades away.
Atlantic Seabreeze gives this fine album a full 5 Star Rating out of 5 Stars.