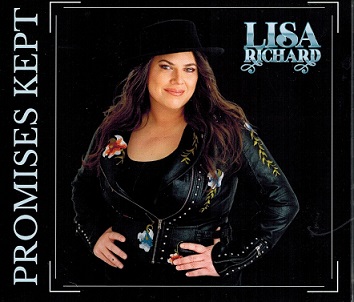 Halifax based, Lisa Richard is a talented country singer songwriter
who captivates listeners with her powerful vocal range and true
passion for music, and thus life. Her vocal stylings have been
compared to the likes of Cher, Wynonna Judd and Tracy Chapman.
She's also been called a soulful Anne Murray.
Now in 2022 she released her debut album, Promises Kept produced
by CCMA Hall of Famer, Jason Barry and Danny Bourgeois.
The CD contains 10 songs and here are the titles:
Uniforms - Just Some Things - Together - Sunday Confession
News You Can Use - I Tried - My Two Fathers - Hell of A Wreck
Love Ain't Too Far - Holdin' On
Lisa wrote 2 of the songs, News You Can Use and Hell of a Wreck
On the other 8 songs she co-wrote with, Rick Tiger, Jeff Wanex,
and Chris Lannetti.
Lisa has many awards and nominations under her belt:
Won CBC Searchlight Top 10 Regional Contest (NS) and was a
nominee for multiple Josie Music Award and International
Singer Association Awards.
She was nominated for Country Music Artist of the Year at the
2019 East Music Awards.
This album, Promises Kept was nominated for the 2022 Country
Recording of the Year at the Music Nova Scotia Music Awards.
Lisa will be releasing songs from her latest album at ECMA 2023
in Halifax on May 5.
Atlantic Seabreeze gives this album high marks and awards this
album 5 Stars out of 5 Stars.
For more information regarding Lisa and her music go to her website
address posted above.