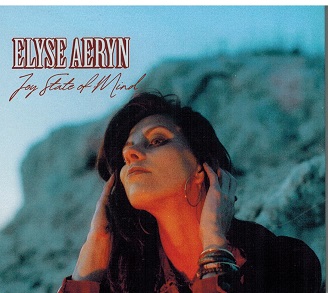 Singer songwriter Elyse Aeryn from Sydney, Cape Breton
recently released a new album on March 31, 2023 entitled,
Joy State of Mind.
She is known for her fiery and rebellious rock and roll. Her bluesy
melodies paired with her bold, warm voice makes for an authentic
and ageless sound.
For Elyse, a lifelong writer, the words and stories come first. She
pens lyrics that tell the truth about her own life in the hope they will
illuminate the truth in someone else's. Elyse writes with heart
about the stuff of life. You can practically taste the inner strength
and resilience in her music. It's gritty and passionate and real.
The CD contains 8 tracks and here are the titles:
Criminal - Under My Skin - Logical - Cherries - Montreal
I Don't Smoke - Out of Love - Colour of You
All songs were written by Aeryn with help on the song I Don't
Smoke with Michael S. Ryan and Out of Love with Brian Cathcart.
Elyse's rich voice, soulful lyrics, and charismatic guitar riffs are blowing
away listeners and audiences.
Atlantic Seabreeze gives this CD a full 5 star rating out of five stars.
For more information regarding Elyse and her music, refer to her website
address posted above.