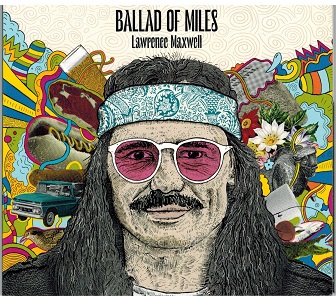 Country Music Artist from PEI, LAWRENCE MAXWELL released his third CD in 2022 entitled, BALLAD OF MILES. As a result the CD was nominated for 7 Music PEI Music Awards for: Album, Album Art Work, Songwriter, First Nation, Roots Recording, Entertainer and Musician.
Unfortunately he was shut out for any of these awards.
In other areas, this album was nominated for the Caledonia House Recording of the Year and The Buzz album of the Year. The CD got airplay on Sirus X M's top of the Country and Country Hits UKRadio UK & CBC Q.
His song Better You from this album, was selected in the top 100for CBC/Toyota Searchlight in 2022.
Lawrence is a true traditional country singer and this album showshow great a county singer he is.
The album contain 13 tracks and here are the titles:
Listening to Keith Whitley-Smile-Better You-Back To Cape Breton
Bouuet of Flowers-Daisy Chain-Baby-Makin Music-Meat
Ballad of Miles-Bird & Worm-Hurry Up & Hurt Me
Beer Song (More To Life)-Happy Little Life
In 2018 he released his debut album entitled Not Your Outlaw and in
2020 he released his second album, Almost Natural which was ECMA
nominated. In 2021 he showcased at Festival UK to great reviews.
In 2023 with release of this album, he has a busy performing schedule
promoting this album which takes him across the Island with 16 dates and to
ECMA 2023 in Halifax in May and in August 2023 he will be
performing at the Toner Festival in Denmark.
This is a perfect country album says Atlantic Seabreeze and receives
a full 5 star rating
For more information regarding this album and other information
regarding Venues and tickets go to Lawrence's website posted above.
All his events are also posted as well on this website.