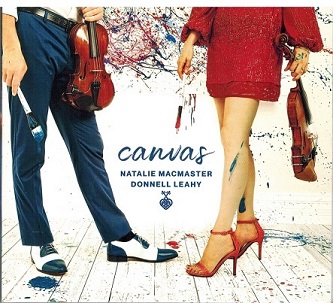 A new CD by Natalie MacMaster and Donnell Leahy was just released in March 2023 entitled Canvas.
Their new album Canvas, the pair stretch the boundaries of Celtic Folk experimenting with global sounds combining their virtuosic fiddle playing with more contemporary production and innovative arrangements, incorporating new instrument sound and contributing musicians.
Special guests include celebrated Classical cellist Yo-Yo Ma, and Grammy award winning American music/Appalachian banjo/fiddle player Rhiannon Giddens.
There are 12 tracks on the CD namely:
Canvas-Colour Theory-Dance Arnold Dance-Woman of the House
So You Love-Galicia-Choo Choo-The Case of the Mysterious
Squabbyquash-Caramelo-East Neuk of Fife-The Laird
O'Bemersyde-Wish You Were Near-Voice Memo
The track N o 4, Woman of The House was written by Natalie and features Grammy winner Rhiannon Giddens.
Track No 11 entitled The Laird O'Bemersyde is a stand-out on the album written by J. Scott Skinner and arranged by Natalie and Elmer Ferrer.
The track is a real traditional one performed by Natalie.
Natalie & Donnell released their first duo album in 2015 entitled ONE and won instrumental album of the year at the Canadian Folk Music Awards and A Celtic Family Christmas, the best seasonal album and concert tour currently on stage at performing arts centers across North America. Many musician artists helped with the music on the album too many to mention here but are all listed on the attractive CD Jacket.
Atlantic Seabreeze awards this album high marks and gives a full 5 Star Rating out of 5 Stars.