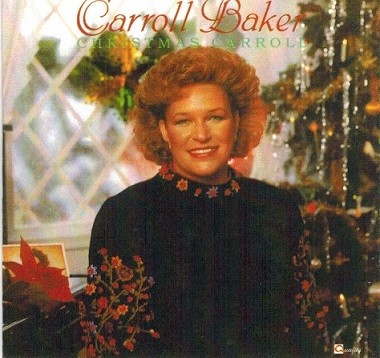 Carroll Baker, singer/songwriter from Guelph, Ontario
released her 1989 No 1 album as a CD in December 2022 entitled Christmas Carroll.
It was the best selling album in 1990. And what a great time to release this great Christmas CD in December in time for Christmas 2022!
Carroll is one of Canada's best loved performers who has been performing for 50 years. She semi-retired in the 1990's and reduced her performance schedule.
In December this year 2022 she did a mini-Christmas tour in Amherst, NS.Miramichi, NB, Summerside, PEI, New Glasgow & Digby, NS and Guelph, Ontario and sang many of the songs from her Christmas CD.
There are 16 Christmas songs on this CD and all songs are sung to perfection.
Song titles are: Winter Wonderland-O Holy Night, Silent Night-Silver Bells-White Christmas-Jingle Bell Rock, O Come All Ye Faithful-Rudolph The Red-Nosed Reindeer, I'll Be Home For Christmas-A Carpenter, a Mother and a King-Christmas Carroll, Christmas Candi-It Came Uopn A Midnight Clear-Let It Snow! Let It Snow! Let it Snow!-One Mother's Child-Have Yourself A Merry Little Christmas and Away In A Manger.
On a side note, Carroll is Canada's Queen of Country Music
having won 5 Juno Awards, a CCMA Award, Received Order of
Canada and the list goes on. During her career Carroll had 20
No 1 records (12 consecutive), 55 singles and 14 albums. She has
co-written 50 songs.
This Christmas CD will certainly make a perfect Christmas gift for music lovers and you can purchase by contacting the above e-mail address.