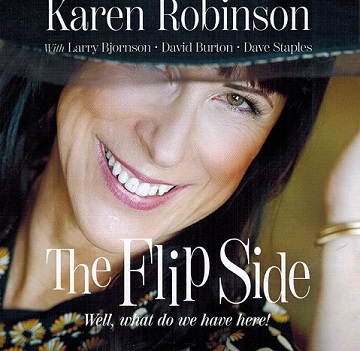 Karen Robinson singer/songwriter from the Halifax Area recently released her 6th CDentitled, The Flip Side. It is follow-up to her previous Cd entitled, When We're Togrther.
Karen is a blues/jazz easy listening music artist and she shines on her new CD.All songs written by Karen except the single, Old Time Music co-written by Karen and Ann Fearon.
This album is different from her previous albums of original jazz/folk or alt/jazz . Instead, enjoy tounge-in-cheek songs with a nod to George Formby's often-slightly-off-colour humorous songs. This new album of light hearted songs explores another side of Karen's music...The Flip Side.
Here are the song titles:
Love's A Moving Target - Easy Does It -The Songwriter - Detention Blues
Ode to Gertie Ryan - Roof Of My Car - The Redhead - X & Y Chromosomes
Pack Up Now - Tadpole Blues - Old Time Music - My Phone - Write a New Love Song
The CD Package is very attractive and contains photos and explanations about each song.
Many musicians helped Karen with the music, too any to mention here.
The CD was produced by Karen and mixed and mastered by Scott Ferguson of FMP Matrix Studios, Dartmouth, Nova Scotia.
The single from the CD entitled, My Phone is now available to listen to on You tube.
Atlantic Seabreeze gives this CD very high rating on its rating list, and we predict music award nominations down the road and possible
music awards.
For more information regarding to Karen and her music, refer to her website posted above