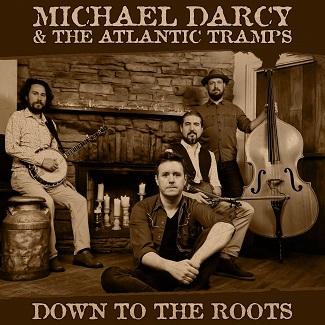 Michael Darcy and his band, The Atlantic Trampsreleased their new CD in Thursday, July 21 2022at the Dakota Tavern in Toronto, Ont.
Michael was born in Ireland and moved to Toronto in 2010. He formed his band called The Atlantic Tramps.
The CD is a collection of original material and traditional folk ballads and Michael brings togetherfamiliar sounds with his band.
The CD was recorded by Aaron Comeau of the The Trailer Studio in Toronto and is Darcy's second CD,the first being his debut CD entitled, Simple Drop of Rainand received rave reviews from both sides of the Atlantic.
Drawing from the well of rich Irish music that he grew up with and and inspred by gritty American songwriters like John Prine and Guy Clark. Michael's songs bear the early tones of his Old Country roots, and the freshness of a newly cut path, Americana.
Here are the song titles:
Take Me Back To The Valley-Sweet St. John's
The Rambler From Clare-In Her Arms
Rollin' Home/Reel De Baie St-Paul
The Ballad of Uncle Frank-Beeswing
Sailing Off To The Yankee Land-Love Rides A Slow Train
Mountain Soul-Wild Rover No More
This impressive CD receives rave reviews from Atlantic Seabreeze and receives a full 4 star rating.
A special mention to the song, Sweet St. John's is a stand out on this album.
For information regarding Michael, his bookings and to purchase this CD, contact the above e-mail address.