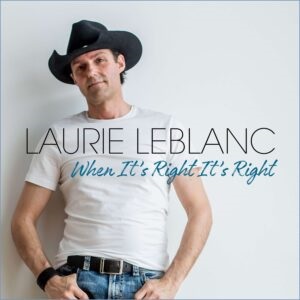 Laurie is a rising star and has been performing since 2011 most singing in French and has released his first English album When It's Right It's Right in May 2021.
Laurie recently received an ECMA 2021 nomination for Country Recording of the Year.
The CD contains 10 songs and Laurie does a fine job singing all the songs with his smooth velvet voice.
Here are the 10 song titles:
When It's Right It's Right - Where Gone Girls Go -The Bigger The Better
Another Night like This - Belle of The Ball - I've Never Known
That's What I Love About This - All In -I'm Tht Guy - I'm In Love
The CD was produced by award winning Music Artist, Jason Barry.
Musicians performing on the CD include:
Lyle Molzan, drums - Mark McIntyre, Bass - Scott Galloway, Keys - Ray Legere, fiddle
Melissa Barry, fiddle - Don Mescall, harmonies (The Bigger The Better)
Jason Barry, electric/acoustic, classical guitar/banjo, steel guitar/percussion/dobro/mandolin/harmonies.
The first single from the album entitled, I've Never Known was released on May 18/21 in honor of he and his wife Jeannette (his manager) 20th wedding anniversary.
As a point of interest, Laurie just got word he got 4 nominations at the 7th Annual Josie Music Awards in Tennessee, taking place in September 2021.
Atlantic Seabreeze gives this album a full 5 star rating out of 5 stars. A very fine CD and we forsee awards for this album
For further info regarding Laurie and his music, refer to his website, address posted above.