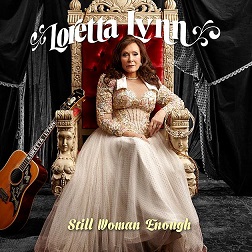 Famous Country Music Legend LORETTA LYNN age 88 is to release her new album entitled, STILL WOMAN ENOUGH on March 19, 2021.
Loretta pays tribute to country music's female legends from every time period with her new album.
The new album is spotlighting a handful of beloved tracks (13 in all) popularized by the Carter Family and features new renditions of some of Loretta's biggest hits from the early days of her career.
Country Music Stars collaborations are by Reba McEntire, Carrie Underwood, Tanya Tucker and Margo Price.
The New album coincides with the release of Loretta's major song, Coal Miner's Daughter on January 4 1971.
The video, of Loretta's recitation of Coal Miner's Daughter included on the new album was shot at Loretta's Hurricane Hills Ranch in Tenn. and produced by John Carter Cash (Johnny's son) and Patsy Lynn Russell (Loretta's daughter). The album was recorded at Cash's Cabin Studio in Hendersonville, Tenn.
Loretta wrote 160 songs in her career and had 24 #1 hits and 11 #1 albums. She released 70 albums in her career including 54 studio albums, 1 tribute album and 15 compilations.