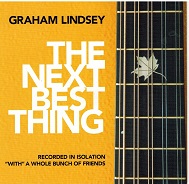 Graham Lindsey music artist singer/songwriter and producer from Ottawa has released another great CD featuring 15 outstanding artists from Manitoba to Newfoundland with Celtic easy listening music.
Graham's tunes are rooted in tradition and brings a freshness and new vitality to Canadian Folk music. They are well-produced and varied.
He brings to light amazing nice music with these artists which brings great tunes to the forefront and fun to play along with.
The album feature 15 outstanding artists produced entirely in isolation between 5 time zones, 3 countries and Provinces from Mantoba to Newfoundland.
The album features instrumental compositions.
Here are the 12 track titles:
Fractions-Flying Paul-The Next Best Thing-Best Kind-Pass The Remote-Don Kavanagh's Latest-Mike and The Monarchs-Arne's Flying Adventure-Crossflow Waters-Shack Wacky-The Award for Best Picture-Storm Stayed
Many artists are featured on this CD such as Jesse Periard and Megan Bergeron from PEI, Rachel Davis from Halifax, Carole Bestaver, April Verch, Simon Nyberg, Darren McMullen, Doris Folkens, Cara Luft and many more to numerous to mention.
This is an upcoming award winning album in Folk Music says Atlantic Seabreeze and gives this album a 5 star rating on its rating list
For more information regarding this CD and others by Graham Lindsey, refer to the above website address.