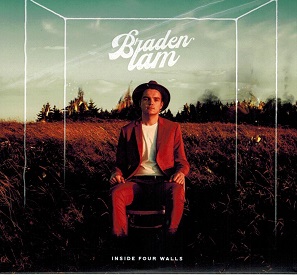 Braden Lam, a young music artist from Halifax released a new EP in October 2020 entitled Inside Four Walls.
The EP contains 6 tracks namely; Saturday is Seven-I Won't Think Twice-Forest Fires-Habit Of My Heart-Coffee Breath-Ruby.
The EP was recorded with PEI's pre-eminent pop producer, Colin Buchanan of the popular group, Paper Lions. Musicians include Colin, Aaron Hillier, Jonathan MacKenzie, Nick Pothier, Bruce Rooney, Kinley Downing and Braden.
The EP its music for driving and singing along to for late night heart to hearts and Sunday morning papers for growing up and letting go. Its bearing witness to the death of your old self and accepting and celebrating the person you have become.
The six songs that compose the album walk from adolescence and a wide open future into reality of adulthood and its sundry limitations, trying to find the ideal balance between art and responsibility.
It's a soundtrack to reconsidering your views of society and others, and yourself.
Braden shines throughout the six songs and Atlantic Seabreeze gives the album very good ratings.