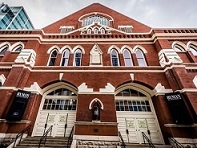 The Grand Ole Opry in Nashville Tenn. began in 1925 and have been broadcast on radio for 95 years without interruption.
They are celebrating their Anniversary for the month of October 2020 at the Ryman Auditorium In Nashville with a sold-out crowd of 500 in a hall of over 2000, reason being a smaller crowd because of Covid-19.
The first show is October 3rd and will have as performers featuring Vince Gill, Lorrie Morgan, Dierks Bentley and Terri Clark.
Lorrie Morgan is celebrating 36 years as an Opry Member
Terri Clark is celebrating 16 years as an Opry member
Vince Gill is celebrating 30 years as an Opry member
Dierks Bentley is celebrating 15 years as an Opry member
Fans can tune into www.wsmonline.com or WSM 650 AMm on Radio