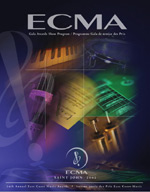 Ten awards handed out during special national TV broadcast
Wintersleep, Tim Baker, Neon Dreams, Natalie MacMaster, Eastern Owl, and Jacobus are among the winners of the 2020 East Coast Music Awards (ECMAs). The awards were announced this evening as part of a special two-hour broadcast that aired on CBC TV in Atlantic Canada and on CBC Gem across the country.
Hosted by Mary Walsh, the 2020 East Coast Music Awards Show presented by TD featured performances from Tim Baker, Rose Cousins, Wintersleep, Damnhait Doyle, Matt Mays, Neon Dreams, Motherhood, Eastern Owl, Zamani, Jacobus, and Shanneyganock, and a special tribute to Canadian Songwriters Hall of Fame inductee Ron Hynes featuring longtime members of his backing band and artists such as Shaye, Joel Hynes, and Lennie Gallant.
Throughout the broadcast, the following ECMAs were handed out:
Album of the Year:-Wintersleep - In The Land Of (Producers: Tony Doogan, Wintersleep)
Bucky Adams Memorial Award:-Jon Samuel
Dr. Helen Creighton Lifetime Achievement Award:-Shanneyganock
Fans' Choice Entertainer of the Year:-Jimmy Rankin
Fans' Choice Video of the Year:-Jason Benoit - Slow Hand feat. Leah Daniels (Director: Tim Deegan)
Francophone Recording of the Year:-Jacobus - Caviar
Indigenous Artist of the Year:-Eastern Owl
Roots/Traditional Recording of the Year:-Natalie MacMaster - Sketches
Solo Recording of the Year:-Tim Baker - Forever Overhead
Songwriter of the Year:-The East Pointers
Although our plans for a big celebration in St. John's were put on hold this year, we were very proud to produce this special program to pay tribute to our hard-working and deserving East Coast artists and industry professionals, says Andy McLean, CEO of the East Coast Music Association. We would like to express our sincere gratitude to all those who participated in the preparation of this show, to all those who tuned-in and to the city of St. John's and the province of Newfoundland and Labrador for their inimitable hospitality over the past year.
Earlier on Saturday, CBC's Weekend Mornings and CBC's Weekend AM announced the winners of this year's Stompin' Tom Awards - honorary awards that celebrate individuals and groups from each of the ECMA's five regions (Prince Edward Island, New Brunswick, Mainland Nova Scotia, Newfoundland & Labrador, and Cape Breton) who have made a long-term contribution to the Atlantic Canadian music industry.
The recipients of the 2020 Stompin' Tom Awards are:
Kinnon & Betty Beaton (CB)
Chuck Teed (NB)
Wonderful Grand Band (NL)
Brent Williams (NS)
Paul Bernard (PE)