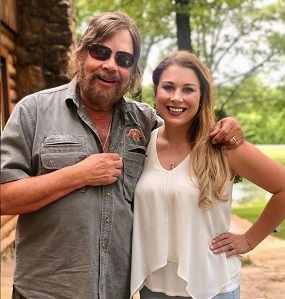 Kathleen W Dunning age 27 daughter of Super Country Music Star Hank Williams Jr was killed in a car accident 100 k north of Nashville on Saturday, June 13 2020.
Her and her husband Tyler were travelling along with their 2007 Chev Tahoe towing a boat, when suddenly they crossed the median dividing the highway, rolled over and stopped on the shoulder of the road.
Tyler was airlifted to Vanderbilt Universal Hospital and is in intensive care. His condition is unknown at the moment.
She leaves her two young children behind, son Beau 5 years old and daughter Audrey Jane 2 years old.
Kathleen owned a clothing company called Weston Jane.
Kathleen is seen here in the photo with her father Hank Williams Jr.