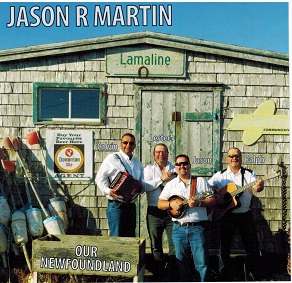 Jason R Martin, musician, singer, producer and composer is formerly from Lamaline, NL and lives in Ajax, Ontario recently released another fine CD entitled, OUR NEWFOUNDLAND.
Jason as a lead vocalist with distinct vocal tones will keep your toes tapping all night long. Through the years, he released several singles and albums many at 416 Audio Productions and some at his own home studio, JRM Studios in Ajax.
There are 12 songs on the new CD, with his father Ralph writing 8 of the songs, and 4 written by others including Bud Savidge, Loyola Hearn, Harry Hibbs and Kyrl Dollimount.
Ralph, Jason's father sings many of the songs and Jason sings all the others.
Here are the song titles:
Saltwater Hands - Lamaline - Rowed Up In A Dory - Seagulls
Northern Flicker - Richard Gillett's Stand On The Hill - Old Man's Accordion
Berry Pickin' Time - From An Island To An Island - Those Bloody Roundabouts
Good Are The Memories - We Thank You For Our Newfoundland
Musicians on the CD include:
Ralph Martin, vocals-Lester Martin, vocals & accordion-Calvin Martin, accordion-Albert MacDonald, acoustic guitar,electric guitar and banjo-Gary Carroll, accordion-Gary Gale, accordion-Marty Delaney, acoustic guitar & mandolin-Randy Morrison, fiddle.
The CD was produced by Jason R Martin and recorded, mixed and mastered at JRM Studios and 416 Audio Productions.
This is an amazing CD says Atlantic Seabreeze and videos of many of the songs can be seen on Jason's website as well as on You Tube. On all videos you can see all the beautiful photography of Newfoundland, truly outstanding, and photos ties in with every song.
Atlantic Seabreeze gives this great CD a full 5 star rating out of 5 stars.
To purchase this CD and others by Jason, go to his website and e-mail address, posted above.
This song, SALTWATER HANDS, was written by Jason's father, RALPH MARTIN.