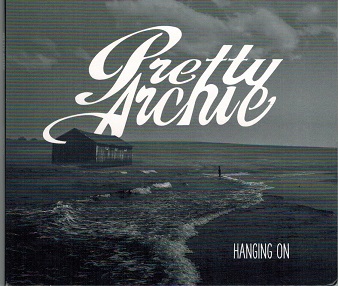 Pretty Archie is a Canadian Band from Cape Breton. Their music is a mixture of folk, bluegrass, country, rock and vintage soul.
Band members are:
Brian Cathcart (lead vocals, guitar), Matt McNeil (mandolin, guitar), Colin Gillis (harmonica, bass, vocals), Redmond MacDougall (banjo, percussion, vocals) and Scott MacLean (guitar, mandolin).
This CD , Hanging On, is a follow-up to their ECMA 2018 nominated album, Sing Along & Love Songs for Country Album of the year. Their previous album entitled, North End Sky, was ECMA 2016 nominated for Country Album of the year as well. Their first full length album entitled Steel City was recorded in January 2013 at the famed Grant Ave Studios in Hamilton, Ontario with well known producer/engineer Bob Doidge. The debut 11 song LP, Steel City was released on March 9, 2013 and was nominated for MusicNS 2013 Country/Bluegrass Album of the Year.
This album, Hanging On contains 9 tracks and the titles are:
Ain't No Saving Me - Stay The Same - This Whole Town - No One To Blame
Summer Love - You Better Run - Holding Out - Nightlife Love - Sometimes
All songs were written by Pretty Archie.
The CD portrays a great blend of music which brings out the bands East Coast roots, which is impossible to describe.
The CD was recorded in Sydney, Cape Breton at Soundpark Studios and co-produced by Pretty Archie and Jamie Foulds.
From stem to stern Hanging On is populated by characters every listener will recognize from their own lives with almost photographic precision; long lost lovers, the best friend you always planned to run away and take on the world with, even that one person at the bar who's perpetually on their last cigarette.
This album is a number 1 album in Atlantic Seabreeze ratings and give the album a five star rating out of 5 stars.
According to Pretty Archie, they have developed a loyal following built from their entertaining, high energy and foot stomping shows. Their unique sound and energetic shows leave listeners with a lasting memory.
For more information regarding the band and their music, refer to their website, address posted above.