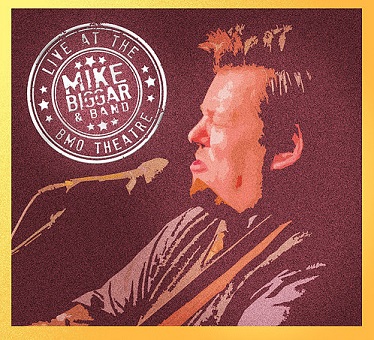 Mike Biggar, blues singer/songwriter from New Brunswick is a contemporary roots and blues artist and is a natural live performer. He has in his 10 year career, has been honored with numerous East Coast Music Association and New Brunswick Awards, including most recently the 2018 ECMA Award for Blues recording of the year.
He recently in 2019, released his 4th album entitled, Mike Biggar & Band Live At The BMO Theatre in Saint John, NB, Mike's hometown. The new album offers the most intimate and memorable Mike Biggar musical portrait to date.
With a heartfelt selection of new and catalogue songs, Live t The BMO offers numerous special musical moments, from nod to his gospel lineage with a rolling interpretation of the traditional, AIN'T NO GRAVE, to the new Delta Stomp of Biggar's own ALL THE SAME and a powerhouse version of the Bonnie Raitt hit, LOVE SNEAKIN' UP ON YOU.
The band is hot, Biggar's signature soaring vocals are powerfully showcased, and he joins the songs together with his well known disarming humour in stories and audiences interactions.
There are 12 songs on the album and here are the tracks:>
Go All In - Troubles No More - Hero - Better Men - Holler All The Time
All The Same - I Just See You - Hell & High Water - Ain't No Grave
Love Sneakin' Up On You - Longing For Home - Love & Insanity
This is a super album says Atlantic Seabreeze and we give the album a full 5 star rating out of 5 stars. We forsee several nominations and awards in the up-coming year for this album.
New markets across Canada and beyond continue to open regularly and 2019-2020 will see Biggar sharing his compelling live performance brand more than ever, with bookings ongoing across Canada, the United Kingdom, Europe, Australia and more.
For more information regarding Mike Biggar, refer to his website, address posted above.