Tim Baker, singer/songwriter from St. John's, Newfoundland and former member of the NL popular group, Hey Rosetta, has just released in April 2019 his first so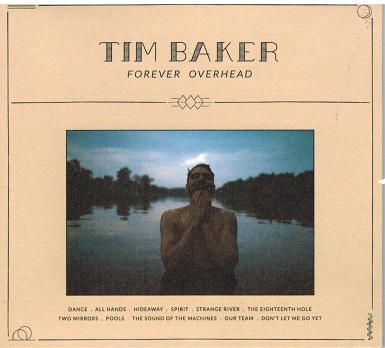 lo album entitled, Forever Overhead.
The band, Hey Rosetta, disbanded in fall of 2017 after releasing 4 albums and Tim went on his own and went solo. Tim earned a spot on Exclaim! the 22 most anticipated Canadian albums of 2019 list.
The collection of songs is centered on kinship and the complexities of human connection.
The CD contains 11 songs and here are the titles:
Dance - All Hands - Hideaway - Spirit - Strange River - The Eighteenth Hole - Two Mirrows
Pools - The Sound of The Machines - Our Team - Don't Let Me Go Yet
The CD was produced by Marcus Paquin & Tim Baker.
The CD features instrumentation from the likes of Liam O'Neill (Sunns) and Ben Whiteley (The Weather Station) as well as Mishka Stein and Joe Gross (Patrick Watson).
Tim says he drew on the 70's pop records by Elton John, Billy Joel, Jackson Brown and Van Morrison that his parents exposed him to as a boy. He wanted to connect with people, the way he connected with those records.
The track list includes teased songs, Dance and Spirit as well as new tunes like Hide Away,The Eighteenth Hole and Our Team.
What a fine album says Atlantic Seabeeze and we for see many nominations and awards for this outstanding album! The album portrays great song-writing and Tim Shines throughout the album.
We give this album a 5 star rating out of 5 stars on its rating list.
Tim is ready to embark on a Canadian tour in April 2019 which includes 5 shows in USA including, Portland, Or., Seattle, Wash., Los Angeles, CA. and San Fransisco, Ca.
For more information regarding Tim and his music, refer to his website, address posted above.