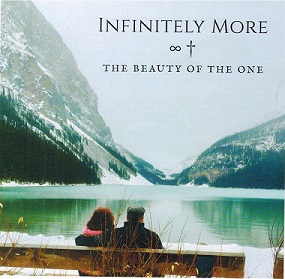 Infinitely More (Allison Lynn/Gerald Flemming) have just released their 8th studio album entitled, The Beauty of The One, and it has been nominated for an ECMA 2019 for Inspirational Recording of The Year.
Earlier this year, they received 2 Covenant 2019 Awards by the Gospel Music Association of Canada for Folk Album and Collaboration of the Year (My Soul is Spoken For).
The CD contains a collection of Infinitely Moore's original worship and inspirational songs celebrating the wonders found in God's glorious creation.
There are 12 songs and here are the titles:
The Beauty of The One - Towards Your Breaking Light - My Soul Is Spoken For - Crown Him Lord of All
For All I Am is Yours (Pslam 86) - Salvage Me - God's Mighty Name Saves Us (Psalm 124) - Watch The Sunrise
The Glory of Love Revealed - Broken Salvation - Through The Dark - Where Are You Hiding Today
These songs are rooted in Scripture and on The Stories of all of our stumbling walks of faith.
All songs were written by Gerald Fleming except tracks 3 and 5 were co-written with Sue C. Smith and Allison Lynn. The CD was recorded in Kitchener and produced by Andrew Horrocks.
Musicians on the CD include:
Lead and Harmony vocals: Allison Lynn and Gerald Flemming
Guest Artists: Drew Brown-Hiram Joseph-Ali Matthews-Kevin Pauls
Acoustic Guitar-Gerald Fleming - Drums, Mark Inneo - Bass-Mark McIntyre, Andrew Horrocks
Keyboards and String Arrangements, Rob Horvath - Addition Keys, Patrick Shay - Programming, Andrew Horrocks
Patrick Shay
The CD is a great uplifting one and Allison and Gerald does a wonderful job singing these great well-written songs
and Atlantic Seabreeze gives the album a full 5 star rating out of 5 stars on its rating list.
For more information regarding Infinitely More and their music, refer to their website, address posted above.n