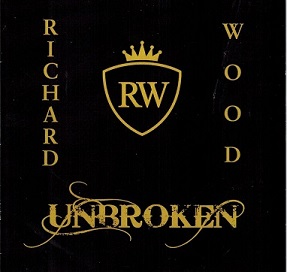 Richard Wood, step dancing/fiddler from PEI just released in November, 2018 a new CDentitled UNBROKEN. He is considered as one of PEI's most energic and celebrated fiddler.In the past, Richard won 3 ECMA Awards and has been acclaimed by MacLean's Magazine as one of the top Canadians to watch in the 21st century.
Richard has been working on his new CD for some time and his aim was to make this CD hisbest to date. The CD contains 13 tracks and Richard certainly has come up with a winner allthe way says Atlantic Sebreeze. We for see award nominations for this album.
Here are the track titles:
A.D.F. Be Mine (4 different tunes) -The Great Loxodonta - Colburn's DelightRainy Daze Meledy (4 different tunes) - Ceilidh Funk - Leaving StoerScottish/Irish/Galician Jig Meledy (Contains 3 tunes) - Midnight G minor FantasiaRichard and Faye's Return Medley (Contains 3 tunes) - Kings Court/The Mute ParrotFinnegan's Lullaby - Circle Prologue - Will The Circle Be Unbroken
Many musicians helped Richrad with his music namely; Gordon Belsher, Natalie Williams CalhounSkip Holmes, Remi Arsenault, Mike Cowie, Todd MacLean, Brad Fremlin, Teresa Doyle andCaleb Acorn.
The last track No 13 on the CD entitled WILL THE CIRCLE BE UNBROKEN is a masterpiece where several PEI music artists sang the song with Richard playing the fiddle. Here are the music artists:
Remi Arsenault-Gordon Belsher-Todd MacLean-Eddy Quinn-Joey Kitson-Janet McGarrySerge Savard-Peggy Clinton-Kendall Docherty-Brady MacDonald-Charlene Belsher-Jolee PatakiTeresa Doyle-Amy Argent-Kelley Mooney-Jon Matthews-Jill Chandler-Shelley Montreuil fiddle.
Richard said all of the music artists that helped him make this album are a testament that our Prince Edward Island musical circle will never be broken. He dedicated this album to his late mother and father, Bernice and Terry. The CD was produced by Richard and Gordon Belsherand engineered and mixed by Gordon Belsher of (GuernseyCove Parlour Productions, PEI)
An outstanding fiddling CD by Richard Wood, and Atlantic Seabreeze gives this album a 5 star rating out of 5 stars. For further information regarding Richard and his music,refer to his website, address posted above.