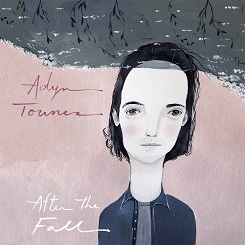 Adyn Townes singer/songwriter from New Brunswick released his new CD entitled,After The Fall in July 2018. The CD earned him a nominations at MusicNB for Socan Song of the Year and Pop Artist of the Year. Just recently the album earned him a ECMA 2019 nomination for Pop Recording of the Year.
Andyn's first single release from the album, Sad Songs, held #1 and spent 3 weeks on the East Coast countdown. His second single, I Believe, has been on regularrotation on Sirus XM's North Americiana Routes Radio Channel and on Spotify playlists racked up 125,000 streams.
The album contains 10 songs and here are the song titles:
After The Fall - I Believe - Didn't Mean Anything - Before The Hollywood
Paris Sky - Churchill - House On The Ocean - L.A. - If You Ever - Sad Songs
Musicians include:
Adyn Townes-Rob MacPhee-Emille Sorrey-Trevor Grant-Colin Buchanan
The album was engineered and mixed by Colin Buchanan of Paper Lions and recorded at The Hill Sound Studio in Charlottetown, PEI
The CD is a fine collection of songs and Adyn shines throughout with his unique outstanding voice and presents some of his best personal writing to date says Atlantic Seabreeze. We give this album a full 5 star rating out of 5 stars.
Adyn recently returned from Australia with an outstanding showcase at Australia Music Week and he continued his tour through Europe with full houses wherever he performed, and he will return in late 2019.
For more information regarding Adyn Townes and his music, refer to his website, address posted above.