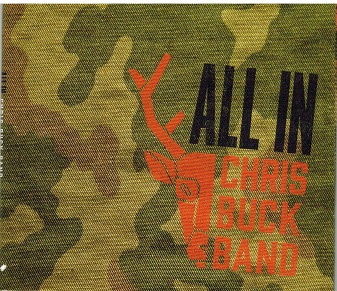 Chris Buck Band is from Vancouver, BC, and he just released his sophomore album entitled, All In. He has become a top charting country artist and recently won album of the year at the BC Country Awards.
Chris Buck burst on the Canadian Country in 2017 scene with his self-titled debut album, and the smash single, That's When You Know, from the albumhad more than 4 million streams and over 79.5k playlist adds on Spotify,a CCMA nomination for video of the year, 6 months of Top 10 Most Wanted on Sirus XM, besides winning Album of the Year.
The new album contains 6 songs namely:
Holy Ground - Good Ol' Days - Drink About You
Spin On It - Driftin' - RDNKN
With this album, the fans get to know Chris's music on a more personal levelas an artist and songwriter.
The song, Holy Ground, pays homage to his home roots.
The album is a personal reflection of his multifaceted character.
With this album, he was inspired to pursue a serious career in music following
the death of a young musician whom he had mentored.
Fans can see and hear his videos on his website as well as on you tube.
Chris has become on of the fastest rising country music artists in Canada with a following of thousands of fans and he shows no signs of slowing down. He will be performing at Dauphin Country Fest in Manitoba this summer and several venues introducing his great music.
Atlantic Seabreeze gives this album a full 5 star rating out of 5 stars and for sees more awards for this album.
For information regarding Chris's music go to his website, address posted above.