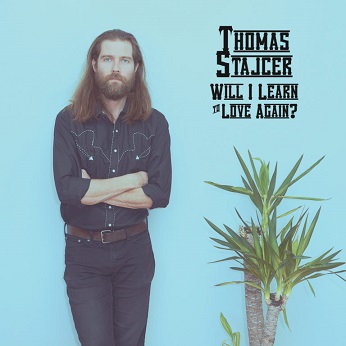 Thomas Stajcer, country music singer/songwriter from Dartmouth, Nova Scotia released his new CD entitled, Will I Learn To L1ve Again in 2018 and it has been nominated for an ECMA 2019 Award for Country Recording of the Year.
The CD is a collection of 9 songs, in which Thomas wrote 6 songs and co-wrote the others.
Here are the song titles:
Love Me Now (or Never Again) - Salesman - In The Long Run
Sad Cowboy - Wildfires - Any Old Road - Me and Willie
Will I Learn To Love Again? - How Long Could I Wait?
Musicians on the CD include:
Brendan Morley-Brian Murray-Matt Gallant-Talon Beek-Brodie Peterson
Thomas Stajcer-Mike Kerr-Campbell Woods-Jacob Strang-Clive MacNutt
Mike Kerr-Anna Wedlock-Shannon Quinn-Jason Keddy-Andrew Sneddon
The CD jacket is very attractive and contains all words of the 9 songs.
The CD was produced and engineered by Thomas Stajcer and recorded at Joel Plaskett's studio where Thomas works as an engineer.
Classic country sounds and themes are noticed throughout the CD where Thomas's influences are Waylon Jennings, Willie Nelson and Hank Willliams Jr.
The CD is a well put together project and Thomas does a great job singing all the songs. His unique voice sounds very country and stands out among other country artists.
A stand out song on the CD is Me and Willie.
Atlantic Seabreeze gives the album a 5 star rating out of 5 stars and
forsees more nominations and awards for this album
For more information regarding Thomas and his music, refer to his websiteaddress posted above.