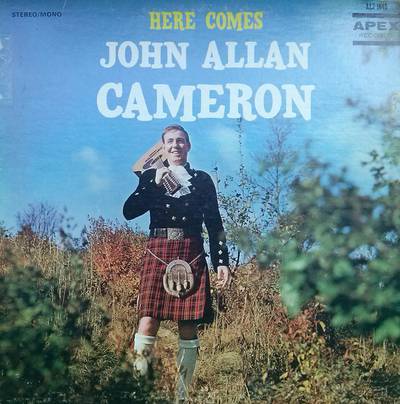 John Allan Cameron's first Album, HERE COMES JOHN ALLAN CAMERON was recorded in Montreal 1968 and released in 1959, 50 Years ago.
The cover of his first album shows John standing among the weeds, clad in a kilt with his trusty 12 -string guitar.
The album contains 12 tracks including folk tunes, instrumentals and Gaelic songs. The album open doors, smashed down barriers and opened many eyes.
Some of the tracks are: There Was An Old Woman From Mabou, Banks of Sicily, Betsy Go Home, The Four Marys, Peggy Gordon and seven more.
The musicians include: Jessie (John's Sister) on piano-John Donald (John's brother) on fiddle-and Freddie McKenna one of the stars of Sing Along Jubilee on bass and produced by Marvin Burke at RCA Recording Studios in Montreal.
Many Cape Breton music artists were influenced by John such as: Natalie MacMaster-The Rankin Family-The Barra MacNeils and Ashley MacIsaac.
John paved the way for East Coast musicians.
*He received Order of Canada in 2003
*He received an ECMA Lifetime Achievement Award
*He performed on The Grand Old Opry in 1970 in his kilt
*He released 11 albums and 3 compilations
John was married to Angela in 1969 in Scarborough, Ontario and have a son, Stuart, a musician in his own right.
John died on November 22, 2006 at age 67 of bone marrow cancer.
The album, Here Comes John Allan Cameron, was the basis of so much of the revival of Celtic Culture in Cape Breton.