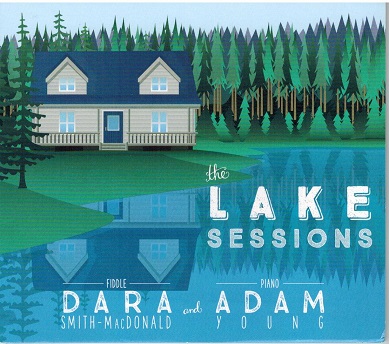 The Lake Sessions is nominated for an ECMA 2019 Award for Gaelic Artist of the Year. The CD was also nominated at the MusicNS 2018 Awards for Traditional/Roots Album of the Year in October.
Their music is very Cape Breton traditional style and is reflected in the album. Dara has strong roots in Inverness, Cape Breton and Adam hails from French River. He has an unique style and adds depth, solidity and joyful forward motion to music.
Brent Chaisson from PEI plays guitar on the CD.
Besides fiddling all over Cape Breton, Dara teaches fiddling and showcasesall over North America.
The CD contains 10 tracks and here are the titles:
To Market, To Market - Settle In - Home Again, Home Again, Jiggety Jig
Dara's Delight-Roddie! - Lasting Impression - A Set of Keys
The Auld Farm Inn - Sesquicentennail Set - Leaving Stoer
The CD was recorded at TGaigh Nan 0g (Adam's House), French River, N.S.
The CD sounds terrific and professional and certainly will appeal to all lovers of fiddle and piano music. Just a great sounding album says Atlantic Seabreeze and gives the album a five star rating out of five stars.
For more information regarding Dara and Adam, refer to their website,
address posted above.