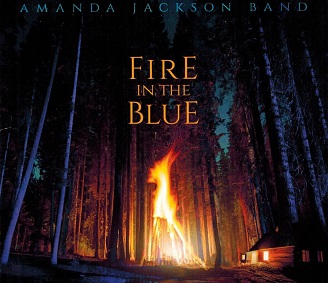 The Amanda Jackson Band from Charlottetown, PEI released their new CD entitled, Fire In The Blue in 2017 and it has received an ECMA 2019 nomination for R&B/Soul Recording of The Year.
At MusicPEI 2018, the band won Urban Recording of the Year and had 2 nominations for Group Recording and New Artists.The CD contains 11 songs namely: Dance Into The Night - Promise - Downfall - Human Zoo - Before The Night Is Through - Shout It At The Walls - Path of Gold>
Back For More - Slowburn - Tower of Song - I Will Sing For You
Musicians on the CD include:
Amanda Jackson, vocals-Dale McKie, guitars and harmonicaTodd MacLean, sax, piano, guitar, vocals-Reg Ballagh, percussion-Jon Rehder, bass, vocals.
Special guests on the CD were: Sean Kemp, violin-Natalie Williams Calhoun, cello-Mark Parsons, trumpet-Jonathan MacInnis, saxophone-Katie McGarry, backing vocals.
The Cd was recorded at Reggie's Recording Palace and produced by the Amanda Jackson Band. All songs by Amanda Jackson except 2 of the songs, Before The Night is Through written by the Band and Chris Roumbanis and Tower of song by Leonard Cohen and arranged by Amanda Jackson.
What a great listening-to album and Amanda is at her very best with her rich and powerful voice! The much talented musicians do an incredible job and certainly makes the whole album come to life with Amanda's terrific voice.
Listening to the album, makes you want to get up and dance.
Atlantic Seabreeze gives the album a full 5 star rating out of 5 stars.
For more information regarding the band and their music, refer to their
website, address posted above.