Corey Hart, one of Canada's most popular music
artists, will be inducted into the Canadian Hall
of Fame on March 17, 2019 at the Juno Awards
in London, Ontario. Corey has sold over 16 million
albums and is a multiple Juno and Quebec award winner.
He had 32 top 40 singles in Canada including
12 top 10 hits. His famous song NEVER SURRENDER
was 9 weeks as No 1 in Canada. He won
single of the year for this song at the 1985 Juno's.
He just released a new album entitled,
DREAMING TIME AGAIN and will be touring across
Canada in June 2019.
Happy 73rd Birthday to Country Music
Legend DOLLY PARTON on January 19, 2019
Bands at Moose Lodge Etobicoke, Ontario 70th Anniversary
Celebration on January 19, 2019-(The Starlites-Joe Tucker
Band-The Roadhouse Boys)
>>>>>>>>>>>>>>>>>>> (Photo by Sky Grace Davey)
Remembering Maxine Brown of the famous The Browns (Country Music Group) who passed away on January 21, 2019 at age 87. The above picture Induction ceremony to Country Music Hall of Fame, Maxine is on left. Jim Brown died June 11/15 and Bonnie (on Right) died on July 16/16. Their song, The Three Bells was released in 1959 and hit No 1 on the Country Charts
Cory Gallant, Country Music artist/songwriter from O'Leary, PEI will release a new CD in Spring 2019 which will feature Georgette Jones (George Jones daughter) with a song called It's Love. Cory was winner of the 2018 CCMA Spotlight Performance Contest. He performed live at the CCMA's, in Hamilton, Ontario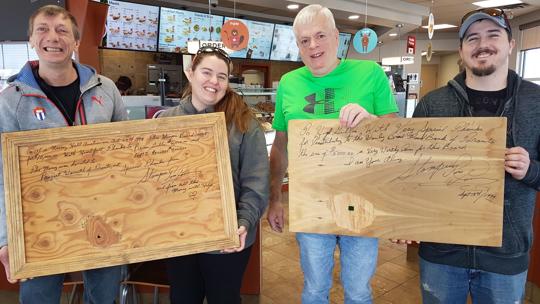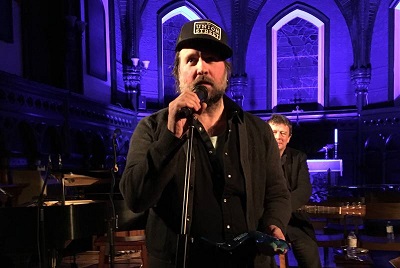 Brian Gillis (in green shirt) from Toronto, Ontario has donated 2 of Stompin' Tom's stomping boards to The Stompin' Tom Center in Skinner's Pond, PEI in January 2019. Brian bought three of the boards, that Stompin' Tom auctioned off for charities after his shows, and wrote a thank you note on each board. Brian has no ties to PEI, but a Stompin' Tom fan for many years. Mr. Gillis said the boards will enable visitors to learn more about the humanitarian side of Stompin' Tom
Dennis Ellsworth, singer/songwriter from PEI wins 2018 Music PEI Award for Songwriter of the Year. His winning song written by Dennis is entitled, SHE'S NEVER WRONG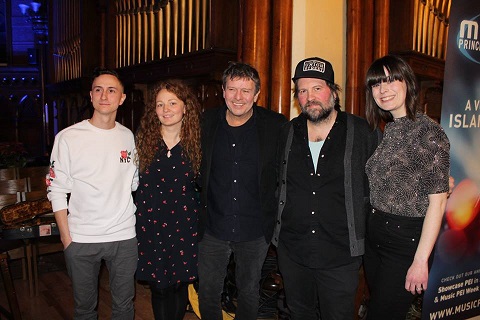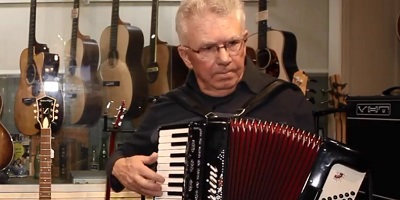 Music PEI 2018 Award Songwriters Nominees: (left to right) Dylan Menzie-Meaghan Blanchard-Lennie Gallant-Dennis Ellsworth-Rachel Beck
Remembering RAY WALSH, Newfoundland legend Accordion Player who passed away on January 27, 2019 at age 75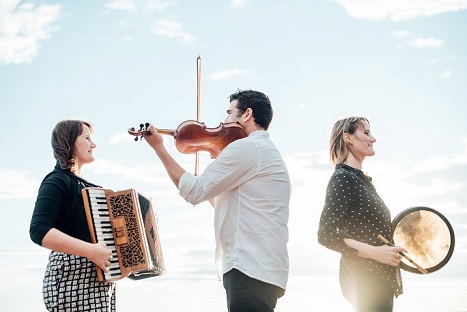 Happy 99th Birthday to Fiddling Legend from Miramichi, New Brunswick MATILDA MURDOCK today, January 30, 2019. Matilda received the
Stompin' Tom ECMA Award in 2002 for her Lifetime Achievement
in music over her lifetime. She was known as well for her written
fiddle tune, LOGGIEVILLE TWO STEP.
Congratulations to VISHTEN, music group from PEI who received 3 MusicPEI Awards for Album, Francophone and Group Recording on January 27/19.They just received a Canadian Juno Nomination and 2 ECMA Nominations for, Group Recording and Roots Traditional.
Remembering HAROLD BRADLEY famed Guitarist from Nashville who passed away on Jan 31, 2019 at age 93. As a member of the Hall of Fame, he was the founder of the Nashville Recording Industry. He was a guitar session player for 70 years with music artists such as Elvis, Patsy Cline, Alan Jackson, Loretta Lynn, Hank Williams, Burl Ives, Conway Twitty, Eddy Arnold and many, many more.
Rita MacNeil's Tea Room in Cape Breton will close its doors forever this season. A small space will be shared with Cape Breton Fudge Company in downtown Sydney and will display some of her memories, a gift display and seating for tea, biscuits and desserts. The Tea Room opened in 1996 and Rita passed away in 2013. The Tea Room was an iconic tourist stop.