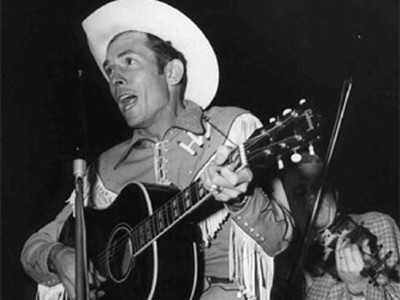 He was the
most influential person in country music history
and he was
only 29 when he died 65 years ago today.
Hank Williams was
found dead on New Year's Day in 1953,
the cause of death
due to heart failure
brought on by excessive drinking and medication.
He and his band, The Drifting Cowboys, had been booked to play in Canton, Ohio and he had hired a powder blue Cadillac limo to take him to the show. It's believed Hank fell asleep in the back seat during the trip from Knoxville, Tennessee. A Tennessee Highway Patrolman had stopped the car for speeding, looked in the back seat and said, That guy looks dead. The driver, Charles Carr, a teenager from Hank's hometown of Montgomery, Alabama, said his passenger was sedated, paid the $25 fine and drove away. When Carr, who had been hired the day before, tried to wake him at 5:30 in the morning in Oak Hill, West Virginia at a gas station, Williams was dead.
A hasty autopsy was performed at a funeral home in Oak Hill and Hank was in such poor shape the doctor who conducted the autopsy thought he was 37-years-old.
Carr died in 2013 at the age of 79.
Hank recorded an astounding 225 songs in just five short years, a remarkable achievement for someone who died so young at 29.
The powder blue Cadillac is curently on display in the Hank Williams Museum in Alabama, USA