CD-Things Keep Lookin' UP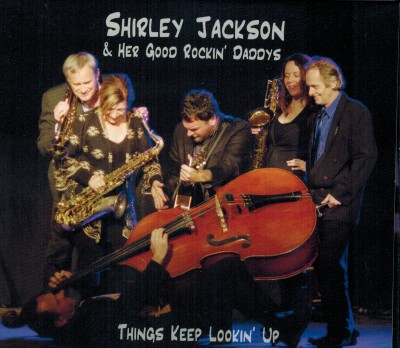 Shirley Jackson & Her Good Rockin' Daddys
have just released their
fourth album
entitled,
Things Keep Lookin' Up
and they have been
nominated for a Maple Blues Award
for
Horn Player of the year 2017.
The album was recorded over a span of two years and it became
a special blend of 16 tracks
, nine of which are Jackson originals.
Sassy swing, soulful ballads, gritty blues
and
spunky instrumentals
stylistically cover a wide range for any blues enthusiast.
The band continues to hail to a sound inspired by the early years of Rock & Roll when horn sections were an integral part of the sound stylized by Jackson's own writing and horn arrangements.
Here are the 16 track titles:
Back Porch Swing - Stir It Up - Things Keep Lookin' Up He Won't Be Coming Back - Hot Rod Special - Read My Mind What Will Our Future Bring - One Night With You - Marc's Swing Drop of Water - If I Lose You - Cool Evening - Must Be Mistaken Chick-a-Boom - Spring Roll -Nobody Knows You When You're Down & Out
Band members are:
Shirley Jackson vocals, tenor saxophone-Jef Wirchenko (Shirley's Son) bass-Dawn Hatfield, baritone saxophone-Dave Harrison, trumpet-Marc Doucet, guitar-Tom Crilley, guitar-Marks Lockhart, drums.
Through the past number of years the band toured across Canada and USA and won several award nominations for their music and Shirley won a 2003 Maple Blues Award for Horn Player of the Year. They have performed at several festivals and many theatres in the past and still are going strong in 2017.
Shirley Jackson continues to lead the Good Rockin' Daddys into a sound that is reminiscent of the times when honking and screaming saxophones put the swng into dance clubs. This is an incredible album says Atlantic Seabreeze and just can't say enough of great things about the album. If this album doesn't get the listener up to dance, then there is something wrong. A + rating for the album out of 5 stars from Atlantic Seabreeze.
For more information about this album and others by the band, refer to the above posted website address.